Attila Bakos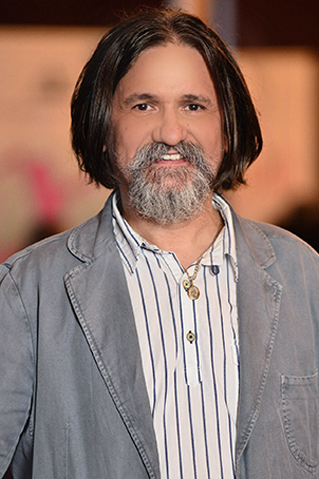 writer, philosopher, an expert of yoga and Vedanta, the introducer of Vedic culture in Hungary, the founder of Narada Vedic Academy, Brahmana Mission, Mandala-Veda and Danvantara Publishing Houses
Attila Bakos has been teaching the principles of yoga psychology and Brahmanic culture in Hungary since 1988. Ha started his academic and practical yoga studies in 1982 under the guidance of B. A. Narayan Swami and B. E. Shridhara Swami. Between 1994 and 2010, he gained direct insight through several study visits to Bengal (Calcutta, Nabadwip) and Orissa (Puri) under the guidance of B. S. Gowinda Swami. He obtained his university degree in communication and media studies at Zsigmond Király University, Hungary. Attila has been publishing his own poetic and prose works since 1988, and published – among others – the Hungarian translation of Vedanta-sutra, most works of Dr. Georg Feuerstein and Swami Rama and the teachings of Sri Aurobindo. His masterwork entitled Ég a szívben – A megvilágosodás filozófiája és pszichológiája [Heaven in Heart – The Philosophy and Psychology of Enlightenment], which contains the teachings of the Upanishads, Vedanta and Samkhya, came out in 2014. His book Asztopsichológia [Astropsychology] published in 2016 deals with the most important characterology correlations of Vedic astrology. In 2017, Attila and his wife and collaborator, Dr. Judit Eszter Bakos published their book Csakra pszichológia [Chakra Psychology], which encompasses the complete translation and explanation of Yoga-chudamani Upanishad. In the same year, they published Bhagavad Gita and Patanjali's Yoga Sutras in Hungarian with the necessary explanations and supplements.
His written works and the audio recording of his lectures are published by Danvantara Publishing House.
In 2007, Attila and Judit founded Narada Vedic Academy, an open enrolment university of Vedic and Ancient Culture. Their aim is to spread those academic and practical teachings of yoga, yoga psychology and Vedanta that can be used in our everyday life and to give an insight to Vedic arts, especially to the eternally flowing world of Vedic music or mantra music through concerts, trainings and different events.
Attila and Judit started their musical collaboration in 2001 and since 2005, they have been refining their art through mantraSOUND meditations.