Mihály Duffek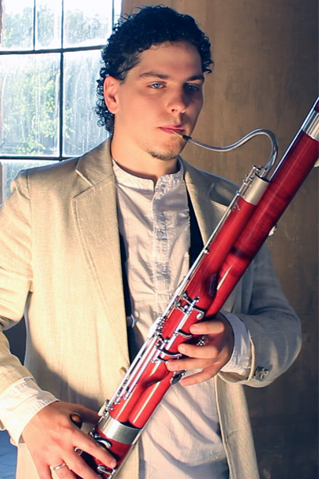 musician, bassoonist, teacher, DLA
I have been involved in music since the age of 6. At first, I started to learn the piano and I became passionate about composing, with which I continue to experiment. I started to learn the bassoon because I read in a fairy tale that when people hear the deep, velvety voice of a bassoon, they cannot but pay attention. Later I found out that it is not the choice of instrument that is important but finding and developing the player's personal message. Still, this experience with the bassoon turned out to be a determinant motive in my choice. Since then, I have been trying to achieve what I read in that fairy tale.
I obtained my degree in bassoon studies and teaching at Liszt Ferenc Academy of Music in 2008 and in 2016, I completed my doctorate and obtained a DLA at the same institution. Between 2008 and 2010, I deepened my knowledge at the Universität für Musik und Darstellende Kunstban in Vienna. I won the Hungarian Bassoon Competition several times (2001 and 2003) and I was honoured to receive the ifj. Hara László award given by the Hungarian Bassoon Company. In 2008, I obtained the third place at the International Bassoon Competition in Chieri, the first place at the competition organized by Yehudi Menuhin Live Music Now in Vienna in and I was one of the winners of the Sándor Végh Competition organized by the Budapest Festival Orchestra.
As a soloist, I performed several times with "Dinu Lipatti" Symphonic Orchestra of Szatmárnémedi and two times with Budapest Festival Orchestra. In 2012, I played Zoltán Kovács' II. Bassoon Concerto as the soloist of the Symphonic Orchestra of Gödöllő. Since 2009, I have been performing regularly with Budapest Festival Orchestra, and I teach bassoon at the Faculty of Music of the University of Pécs. In 2012, I founded Corridor Bassoon Quartet, which gives me the opportunity to experiment with the instrumental and genre limits of the bassoon with an ex-teacher and two ex-classmates of mine.
I took an interest in yoga in 2011 to which Attila Bakos introduced me. His deep and pure teachings inspired me to research the eternal link between music and yoga philosophy. I believe that to understand and experience the message behind the music notes, one is best guided by the timeless philosophy of yoga.
In 2013, Vedic music and arts had a deep impact on me and since then I have been contributing to mantraSOUND meditations.