Yoga
yogas citta vṛtti nirodhaḥ| PYS 1.2
Yoga is the art of self-development, a tool to perfect our mentality and all aspects of our being. Asanas, pranayama, relaxation techniques, kriya, concentration-improving and meditation exercises, as well as the cultivation of knowledge and philosophy and finally karma yoga, the practice of unselfish actions all serve this purpose. Yoga is a life-philosophy put into practice, which is based on personal development and empiric experience. Yoga is not a religion nor a fitness trend, but a comprehensive discipline, the extensive and regular training of the body and mind. A regular practice of yoga increases our energy level, life-force and lifetime, and we become healthy on every level. Yoga is also the art of the right lifestyle. If we introduce its basic principle to our everyday life, we will be able to handle stress better, will become more concentrated and will be able to face challenges in a calmer, more rational way. What is more, we will automatically become more charismatic, develop a realistic self-image and self-confidence.
"Hatha yoga means control over the body. Everyone wants to conquer the outer world, whereas the greatest success is to master ourselves, which for us, ordinary people, starts with controlling the body." | Swami Veda Bharati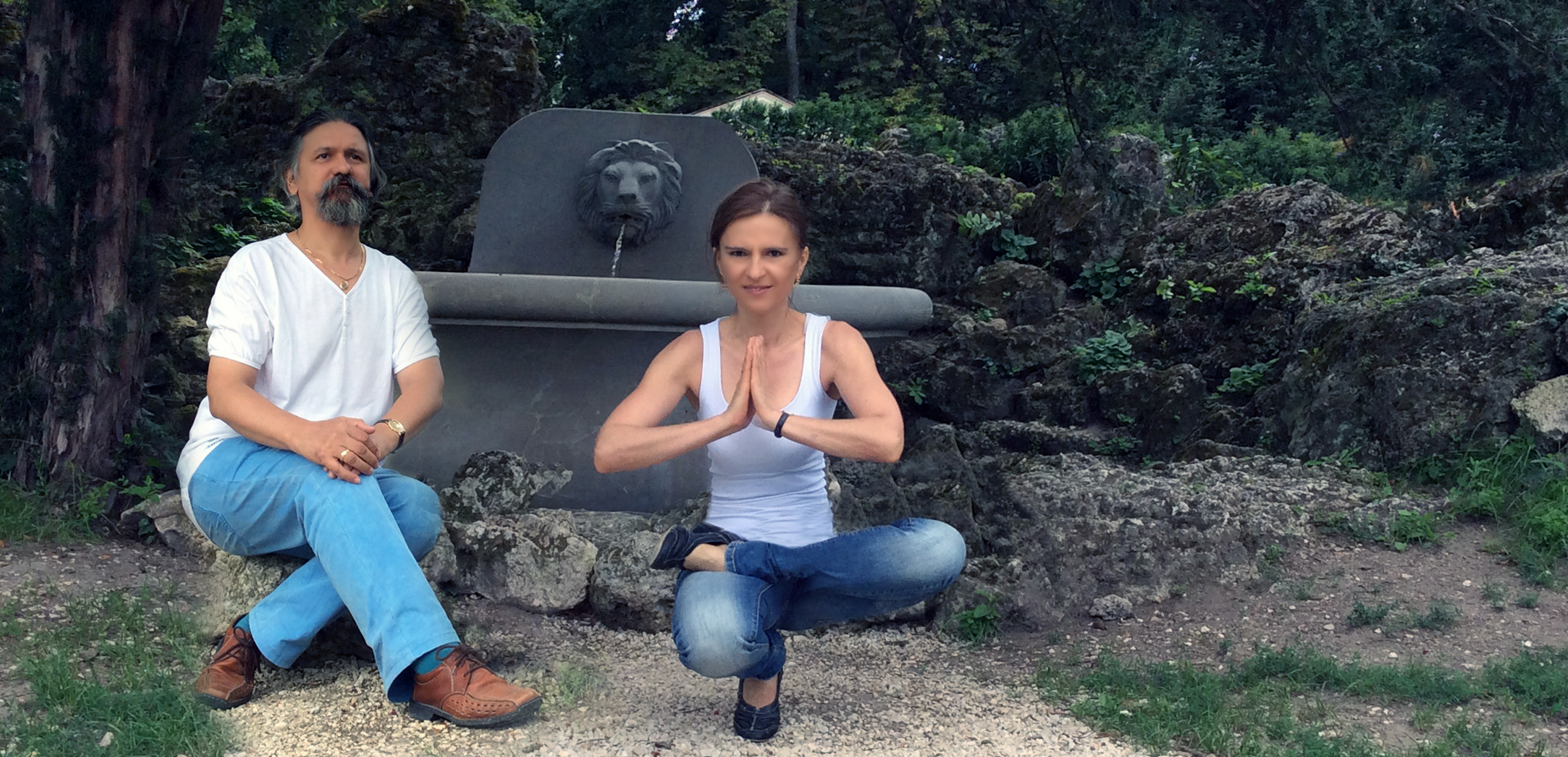 The science of yoga is a philosophical and practical system, which aims to attain a higher mind-set through disciplining and gaining control over the mind and body on the level of actions, speech and thoughts, until reaching Samadhi where the mind and intelligence gains direct understanding of the Self or soul, and the relation between the soul and its source becomes experience-based. "The distance of a person from the divine reality can be understood from how they behave with the people and environment surrounding them." | Attila Bakos
"He, whose self is integrated in yoga, sees the Self abiding in all beings, and all beings in the Self, seeing the same everywhere." | Bhagavad-gita 6.29 (Translated by Philippe L. De Coster)
YOGA CLASSES
---
I get inspiration for my classes from Vinyasa Krama, Vinyasa Flow and classical Hatha Yoga.
Vinyasa Krama yoga was revealed to practitioners by Sri T. Krishnamacharya (1888-1989), the legendary yoga-master of the 20th century. "Vinyasa" means "harmony of movement and respiration" and "krama" means "methodology". Thus Vinyasa Krama is the art of harmonising movement and respiration. The Vinyasa Krama style is characterized by executing each movement with an appropriate vinyasa, that is asanas are linked with a connecting element performed in harmony with breathing.
Vinyasa Flow combines the most important elements of Vinyasa Krama, Viniyoga and Ashtanga Vinyasa, where asanas, following the natural rhythm of breathing, are fine-tuned to a constantly flowing, fine movement and combination of postures. Vinyasa Flow puts an emphasis on properly executing postures, harmonizing movement and respiration and the use of meditative energies coming from the movement. The asanas are linked to form a continuous movement. Vinyasa Flow yoga has an intensive body-shaping effect, it improves the flexibility of the body, assures strength and stamina and improves the cardiovascular system. The dynamic yoga elements that flow from one to another and the specific respiration increase the body heat triggering a detoxification process and help to harmonize the body weight.
The essence of classical Hatha Yoga resides in harmony. As HA-THA represents the active and passive energy of the Sun and the Moon, activity and calmness, dynamism and stability, effort and relaxation appear in the single asanas, asana-sequences and classes. The classical HA-THA yoga contains a sequence of stretching, strengthening and balance-improving asanas, which develop the flexibility of the body and mind, improve stamina and help to reach and maintain the ideal body weight. The postures (asanas) and breathing exercises create a harmony of the body, breathing and mind and generate a powerful but sophisticated momentum in the everyday life. The aim of practising Hatha Yoga is to attain a free and harmonious state of mind and body.
CLASS TYPES
Narada integral flow yoga | 90 minutes: Narada yoga is a complex, combined class type. It starts with a musical mantra meditation, then a harmonius, vinyasa-type practice follows which contains kriyas too (5in1: asana + pranayama + mudra + bandha + control of consciousness). classes end with pranamaya and a singing bowl relaxation.
Vinyasa flow yoga | 90 minutes: Vinyasa flow classes start with an attunement and continues with the practice of dynamic, flowing asanas, pranayama exercises and ends with a singing bowl relaxation.
Hatha yoga | 90 minutes: attunement – warm up exercises – asanas – final exercises – pranayama – singing bowl relaxation.
| DAY | TIMING | CLASS TYPE | VENUE | from 01 Sep. 2018 |
| --- | --- | --- | --- | --- |
| Monday | 8.00 - 9.00 am | private class | Budai Művészház | Rubin Wellness |
| Tuesday | 5.30 - 7.00 pm | Narada yoga | Budai Művészház | |
| Wednesday | 7.00 - 8.30 pm | Vinyasa Flow yoga | Budai Művészház | Rubin Wellness |
| Thursday | 8.00 - 9.00 am | private class | Budai Művészház | Rubin Wellness |
| Friday | 6.00 - 7.30 | Narada Integral Flow yoga | | Rubin Wellness |
Each classes end with singing bowl relaxation.
From 01 Sep. 2018 | RUBIN WELLNESS • Group-class room • Rubin Wellness & Conferance Hotel | 1118 Budapest, Dayka Gábor u. 3.
Until 2018 Aug 30 | Budai Művészház: Brassó út 91., Újbuda, XI. district, 1112 Budapest | free parking
Do it yourself – sun salutation exercises: CLICK HERE!
Audio recordings for relaxation, yoga nidra, chakra meditation and mantra meditation: CLICK HERE!
PRICES
90-minute classes:
1 occasion: 1 700 HUF (1 700 HUF / 1 hour and a half)
8 occasions: 12 000 HUF (1 500 HUF / 1 hour and a half, valid for 3 months)
60-minute private class: 7000 HUF
REGISTRATION
Participation at classes does not require any special prior instruction or flexibility. With sustained practice, we all can achieve practical and long-lasting results. The fine vibration of singing bowls used during relaxation helps stress management and it triggers the self-healing mechanism of the body.